I have long been a fan of Korean food. Now, as I try to increase my culinary repertoire, it is only natural that I go to that cuisine style that I have so joyfully embraced. For my first dish, I picked a simple one that I learned about through my Youtube subscription here. Maangchi is a Korean cook who has excellent skills and does a great job of teaching it. Her website is here.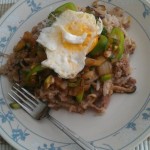 So, I used her recipe for Kongnamulbap. To put it simply, kongnamul is soybean sprouts and bap is rice. To make this, I used rice, soybean sprouts, ground beef, a pepper of choice, shiitake mushrooms, enoki mushrooms, onions, cucumber, green onion, soy sauce and sesame oil. I then put a fried egg on top.
I just followed the recipe. Prepare the rice, add the sprouts, meat on top. Cook for 10 min. or so, stir the pot and then let cook for 10 min. or so more. Prepare the sauce separate. The only thing I did different was to saute the onions and cucumbers and then add them to the sauce.
This was a great dish. Simple enough for me and I made so much that my friend Anna and I ate it for lunch while having left-overs for two or three meals. The only problem I had was that rice burnt to the bottom of the pot. Will have to work on that.