(Me-M-M-M-M-M-Them)
In 1820, Andrew Smiley is found in the Jefferson County, Mississippi census on page 59. He is listed with a wife, 3 male children 9 years and under as well as 2 white females 9 years and under. His first wife is unknown to me as is one of his female children. His other daughter is Lucinda Smiley, born around 1812, who married Zacharaih Zeigler. His sons were Samuel James Smiley, b. 1813, John Andrew Smiley, b. 23 September 1819. The third son is unknown. He did have a later son with this same wife, Benjamin Smiley, b. 1827.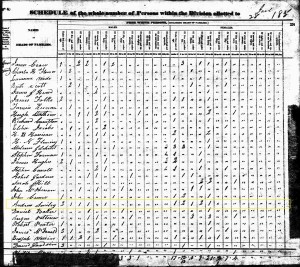 In 1830, he is still listed in the Jefferson County, Mississippi census on page 28. He has 2 male children under 5, 1 under between 5 and 10, 1 under between 10 and 15, and 1 between 15 and 20. On the female side, he has living with him 1 female child under five years of age, 2 between 5 and 10, 1 between 10 and 15, and 2 between 15 and 20. I can only assume that it is wife listed between 20 and 30. This is his 2nd wife, Martha Foreman, whom he married on 16 August, 1828. They had one known child – Joseph Crunkleton Smiley, the Crunkleton name given for Andrew's step-father. This makes sense as Andrew had five male children listed. I do not know who the 5 other female children are besides the already mentioned Lucinda.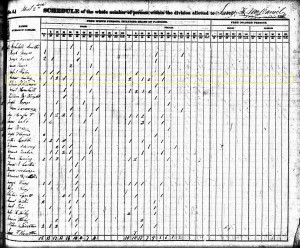 In the 1840 census, Andrew Smiley is listed as living in Franklin County, Mississippi. Living with him now, he has 1 male child of five and under, 2 of 10 and under 15, 1 between 15 and 20. Andrew is now between 50 and 60. His wife is now between 30 and 40. She is his 3rd wife, Elizabeth Bennett, the widow of William G. Nix. Nix died in 1827 leaving her with several children. These were Samuel (Abt. 1824), Martha Ann (Abt. 1825), and Mary Catherine Nix (Abt. 1826). Elizabeth Bennett and Andrew Smiley married 20 May 1835. On female children, Andrew had living with him 2 children under 5 years of age, 1 between 10 and 15, and 2 between 15 and 20.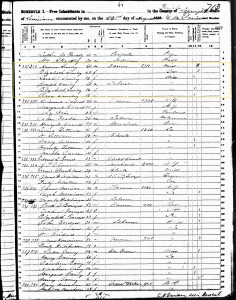 In 1850, Andrew is now living in Livingston Parish, LA. He (aged 60) and Elizabeth (50) are listed as the 329th household. Both of them are listed as illiterate. Andrew is listed as having a real estate value of $2710 and states that he was born in Mississippi. His wife lists her birthplace as Georgia. All of the children listed with him were born in Mississippi. These children were Sarah (14), Joseph (22), Elizabeth (12), and Oren (10). Oren is actually Ora and is my 3rd great-grandmother. Andrew is listed as a farmer and Joseph states that he is a laborer. Sarah, Elizabeth and Ora state that they attended school in the last year.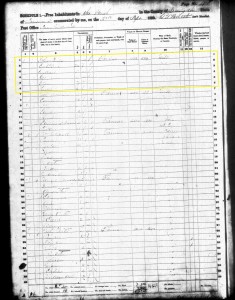 By 1860, Andrew is living with his son Andrew and wife, Catherine née Davidson. Andrew is listed as John and is now 71 years old. He is mistakenly listed as having been born in Louisiana. He does not have an occupation listed, no doubt due to advanced age. His son John has 3 children living with him – Andrew (5), George (4) and Sarah (2). He is listed as a farmer with a real estate value of $1000 and personal estate of $504.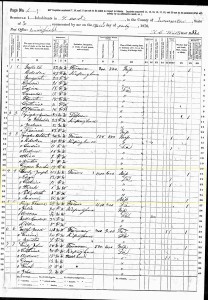 In his last census, 1870, Andrew has moved to the home of his other son, Joseph. John lives very close, however, only several households down. He is now 80 years old and correctly stating that his birthplace as Mississippi. His son's wife appears deceased and he has 3 daughters and 1 son living with him. Joseph's daughters are Eliza (12), Catherine (11), and Elizabeth (5). His son is Frank (6). His real estate value is $400 and his personal estate is $300. Both he and Andrew are listed as US citizens, meaning that they have taken the oath of loyalty. Both Eliza and Catherine state that they cannot read. Andrew either learned to read and write or it was not recorded. Andrew later dies during this decade.