On April 25th, I had to again leave Taiwan because I did not procure a visa. This time I elected to go to Thailand and visit a friend of mine. When I told friends in Taipei about the visit, they were pretty jealous but they don't understand how much I detest the beach. Nope, I went to play with my friend's 5 children, ranging from 8 years old down. Unfortunately, my friend Mike (he works for the State Department) had to work most of the weekend, so it was me and the children. Sure, his wife Nora was there too but one can only divert their attention so much. :-)
That Friday, I worked on an article for the Livingston Parish Genealogical & Historical Society, of which I am a member. On Saturday, I went to a cub scout meeting where they made rockets (constructed with bottles and launched with compressed air & water) and I helped two of the children make rockets. It was a cool event. On Sunday, I went to church and had a great lesson on Numbers. I enjoyed going to a Sunday school where I was not the teacher, which allowed me a different perspective. Although out the weekend, I enjoyed home-cooked food and only ate out once with the family and one of Mike's friends from Virginia. I did enjoy a tall fruity drink as well, since any visit to Thailand would not be complete with out it.
As stated, they have five children, the 4 oldest which are boys. I enjoyed all of them and was especially happy to be able to play with this cutie, Adela: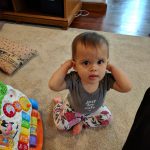 She looks so much like her momma!