(Me-F-M-M-M-M-Them)
Elijah Jonathan Rand was born on 1 Apr 1819 to Peter Rand and Susannah Eaton in Cornwallis, Kings, Nova Scotia, Canada. He died March 2, 1863 in Louisiana of disease. He was a member of Co. F, 22nd Maine Infantry Regiment.  He was married to Eunice Ann Calkins, daughter of Charles Calkins and Elizabeth Eaton. She was born 10 April 1824 in Eastport, Washington, Maine and died 27 August 1914. Both are buried in Baring, ME.
Sources
Elijah Jonathan Rand. Record of the Births for the Township of Cornwallis. "Nova Scotia, Church Records, 1720-2001." Images. FamilySearch. www.familysearch.org.
Calkins, Kenneth W. Calkins family in America. Golden, Colorado: Calkins Family Association, 2000, p. 107.
Elijah J. Rand, 1863. "Maine, Veterans Cemetery Records, 1676-1918," index and images, FamilySearch. www.familysearch.org.
Census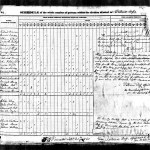 Elijah J. Rand is first found in the 1840 Census for Washington Co., Maine. In his household there is one male between 20 and 30 years old (himself). There is also female between 15 & 20 years of age – his wife Eunice Ann. In addition, there is a female under 5 which would be my 3rd great-grandmother, Sarah Ann Rand (b. Dec. 20, 1838). He is living beside his father-in-law, Charles Calkins, and his brother-in-law, Ahira (listed as Jahira).
1851 Nova Scotia Census In 1851, he is listed back home in the Kings Co., Nova Scotia Census [page 1] between John Witt and Thomas Doyle, Jr. It states that there is one house inhabited by 2 families. I have no idea who the other family is or their relation to Elijah. There are 2 stores, barns or outhouses on the property. Living there are 2 males under 10, 4 females under 10 (perhaps Mary, Susanna, Lucinda and Henrietta), and one female between 10 and 15 years old (this would be Sarah). It also includes 1 female between 20 and 30 (presumably Eunice) and 1 male between 30-40 years (Elijah, himself). In the household [page 2] there is listed one widow. Also, someone (maybe Elijah) is listed as a rate payer with an County Rate Assessment of 0£1s8d Canadian, an Assessment for Poor Rates at 0£2s6d Can., the highest rate for poor & county at 0£7s0d Can., and the lowest rate for poor and county at 0£1s8d Can. The real estate value was listed [page 3] at 250 assessed, 250 probable and a personal estate of 75£ Can. On the property there were 3 farmers using 5 acres of diked land with an average value of 10£ Can. as well as an additional 30 acres of other improved land. Three members of the household attended school [page 4] and 6 declared themselves Congregationalists. This census also gives quite detailed information on agricultural and manufacturing production for each household. The farm contained 25 tons of cut hay and had raised 6 bushels of barley, 6 of rye, 100 of general oats, 8 of buckwheat, 30 of Indian corn, and 3 of clover seed. They also raised [page 5] 500 bushels of potatoes and 10 bushels of turnips. For livestock, they had 9 neat cattle, 3 milch cows, 2 horses, 16 sheep and 4 swine. The family also owned [page 6] 1 hand loom with [page 7] 20 yards of unfulled cloth and 40 yards of flannel. Finally, the household had also produced 15 shillings worth of candles and 1£ of soap.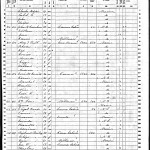 In the 1860 US Census, Elijah and Co. had crossed back over the Bay of Fundy and were living in Baring, which is just outside of Calais, Washington, Maine. He is found living between William Sears and Richard Bailey. At least one of his daughters, Sarah Ann, had already wed. Sarah Ann Rand married George Wilbur Bohannon in September of 1855. Elijah is now listed at 45 (but actually around 41) and Eunice at 38 (more 36). Elijah is listed also as a common laborer with a personal estate value of $50. He is correctly listed as having been born in Nova Scotia and so is his wife. Three daughters live at home – Susanna (20 and a domestic), Lucinda (14) and Henrietta (9) – as does their 8 year old son Adoniram Rand. Susanna is listed as having been born in Maine as is Adoniram. Lucinda and Henrietta were both born in Nova Scotia. Lucinda, Henrietta and Adoniram all indicated that they had attended school in the last year. Mainegeneology.net has a great map of Washington County that lists all of the homeowners. Elijah is under E. Rand in northern Baring just south-west of where the railway enters Calais on this map.
I have not yet been able to find this family in the 1870 Census.
In this 1880 Census, Eunice A. Rand, born in 1824 Nova Scotia and widowed, is now living in Readfield, Kennebec, Maine. I have not yet tied her to Mary C., listed as married to Emons Williams. Mary was definitely a Rand, according to her marriage document with Emons. Eunice is listed as a mother-in-law but gives her occupation as housekeeper, which is born out in her pension application. *Update 4/9/13 – In "Maine, Vital Records, 1670-1907" at Familysearch, the death record of Mary Caroline Rand Williams does list her parents as Elijah Rand and Eunice Calkins.
In the 1900 Arlington, Middlesex, Massachusetts census,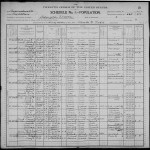 Eunice A. Rand is as 76 year old widowed housekeeper in the house of Henry Blasdale. She also lists her birthdate as April of 1824. She states that she had 12 children with only 4 living. She must have had quite a few number of stillborn or young deaths as I know only of 5 or 6. She states that she first came to the US from Canada in 1827 and had spent 73 years here. She indicates that she can read, write and speak English.
In the 1910 Census, her last, Eunice is listed as living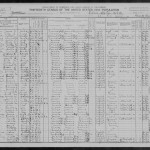 between Silvunne(?) Minor and Horace McClean in Calais, Washington, Maine. She is now 87, still widowed, and living with her 58 year old daughter Jennie (?)lme. As of now, I have no idea who this may be. This census taker's handwriting is atrocious. She now indicates she immigrated to the US in 1850. She still is able to read and write.