I am not really a basketball fan, but I saw recently on Facebook that the Walker Boys' Basketball team was playing in the State playoffs. The coach of the team, Anthony Schiro, is a cousin of mine and we went to school together (he is a year or two older than me) so I decided to watch it. They were playing Sulfur High out from the Lake Charles area. They were able to beat Sulfur 72-50 in a great game on the 23rd of February.
On Feb. 27th, they went on to play St. Amant (in Ascension Parish) in another home game, so I was again able to watch it on Facebook. The score that night was 79-46. A big shout out goes to all the players, who played magnificently. Here is a list of players on the team: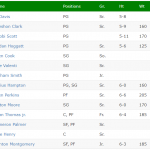 Three days later Southwood High from up near Shreveport came down to Walker and was out played as well. 84-59 was the final tally and the boys just seemed to play better. This victory earned them a visit to the state championship final four, called Marsh Madness, in Lake Charles.
They did not disappoint. They played Friday night (March 8) number 1 seed Natchitoches Central, which had made it to the final four yet again. It was another magnificent game, with Walker able to hobble their star player and dominate the game at 89-63. I was not able to watch the game live, as the venue had changed, but I was able to see the replay of the game. Here is an article by the Livingston Parish News and here is a video interview on Facebook of both opposing coaches. Anthony's boys look great.
This victory means that Walker will play for the first time for the Boys' State Championship. They are unfortunately playing last year's champions, Landry-Walker tomorrow. They are a team from New Orleans and hopefully we will smash them as well. Go Wildcats!