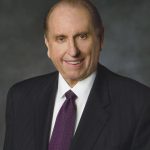 On January 3rd, the news came out that President Thomas S. Monson, the 16th president of the Church of Jesus Christ of Latter-day Saints, had passed away the day before. He was 90 years old and has now joined his wife, Sis. Frances Monson. He fathered 10 children and had many grandchildren as well. He was an Apostle of the Lord for over 50 years. LDS.org had a great biography of the man and his life time of service. President Donald Trump sent a gracious notice here.
What I remember most about President Monson is gentle voice and numerous stories about service to those around him. He encouraged us, as members of the faith and as humans beings, to love those around us, even if we did not agree with them. Especially if we did not agree with them. With his passing, the work continues and goes on.
I can only say, as song goes, "We Thank Thee, O God, for a Prophet." Welcome home, sir.