For a nation that proudly touts the five thousand years of Chinese civilization, there remains an event that the government yearly endeavors to erase from the consciousness of the its people.¹ According to this article at Foreign Policy, it seems that they are succeeding, at least within the boundaries of China. I, however, choose to remember. Even today, the beautiful idealism displayed there brings tears to my eyes. I have read and seen in documentaries many accounts of those days. I have read the biographies of many arrested and sent to the laogai. If placed in a similar situation, of standing up to a despotic government, I often question if I would have the strength to stand by my convictions. I state with pride that I would, but in searching the depths of my heart, I must state with certainty that I cannot be certain. I was not there and another such moment for me has not come. Therefore, I can only do what little I can. I remember.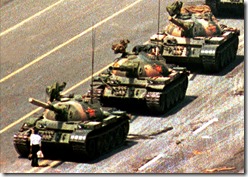 For me, this picture encapsulates the measure of a man. Faceless, nameless and no doubt afraid, he stood up to the Leviathan in the only way that he could. His punishment was no doubt detention and execution, but in this moment he stood up for an entire nation. Everyday in classes that I teach, my students talk about the latest superhero movie or basketball star. Here, among the ashes of history that some would bury, stands a hero greater than Superman or Ironman. I remember.
Here is a poem by the poet, Meng Lang²:
口訣:六四二十七或三九二十七
· 孟 浪 ·
血手與血手印之間
隔著氧氣,褪去了塗抹、擦拭
出發的和抵達的,相撞在一起
記憶押著遺忘,有人視而不見
而我要讓你分明看見這無形
那曾經直接的割取和甩脫
頭顱中的火焰躍過,再一次躍過
罪啊,罪,卻學習著消失
二十七年,一整個國家的羞恥
痕跡,犯罪學,學會了逃跑
紮進政府裡面端坐,佯裝無辜
車隊、人群,一條細線,一根神經
被這雙用罪來滌淨的手抽走
狠狠揉捏十幾億張麵團:憤怒的臉
別過去,別過去,終於扭斷
啊,斷然的犧牲,滋養、哺育喪失
轟隆隆,呼啦啦,湧泉般壯麗
二十七年,一整個民族的酵素——
血手印印在天上,誰又在
誣指,是神的塑膠指紋?
我指出了,這虛無並不可取
大地之上,就這一點最後的綠
一片草尖,把無言的露珠抖落
她,托起整個天空的重量
她的一聲歎息自最深處傳來
記憶的口訣,無可挽回,也無可阻擋
從三九二十七,邁向四七二十八
Mnemonic for 6/4: Three Nines Make Twenty-Seven
By Meng Lang
Between a bloody hand and a bloody handprint
Oxygen is interposed; smearing and rubbing have faded
What is setting forth and what is arriving—they collide together
Memory's guards escort forgetting; some look on but take little in
Yet I want to give you a plain view of the invisible
That erstwhile partitioning and jettisoning, done directly
Those flames in the cranium that overleapt, again overleapt
Sin, ah sin, somehow learning to vanish
Twenty-seven years, the shame of an entire nation
Traces, criminological studies, having mastered ways of escape
Insert themselves in government and sit still, pretending innocence
Procession of vehicles, crowds—a thin, drawn-out line, a nerve fiber
Extracted by this pair of hands that were cleansed by means of sin
Roughly kneading a billion-some balls of dough: angry faces
Turn away, turn away, in the end to be twisted and wrenched
Ah, that wrenching sacrifice, its savor, nursing bereavement
Heavy rumbling, clamor and din, magnificence like a jetting fountain
Twenty-seven years, the enzyme of an entire nation…
The bloody handprint is printed on the sky; who would now
Point falsely? Is God's fingerprint to be molded in plastic?
I hereby point out, this nothingness is to no avail
On the wide land, only this last bit of greenness remains
From tips of grass shake down that wordless dewdrop
She, the one who bears the whole sky's weight
Her long sigh is heard from the deepest place
A mnemonic for something—not to be held back, not to be obstructed
Three nines make twenty-seven, followed by four sevens which make twenty-eight
2016.5.27
( Tr. by XM )
¹Before any wumao heads explode, I want it to be understood that I despise all governments, including my own to a great extent. My politics tend toward libertarian. I have always maintained a great respect and love of the Chinese people. The government and party, despite what they wish people to believe, are not the people and thus can go to hell.
²This poem was originally published in the Mingpao newspaper, Hongkong, June 1, 2016. It was passed to me through Ohio State University's Modern Chinese Literature and Culture (MCLC) Resource Center.