My year ended with some cheer with dinner dates with some friends. On December 28th, my 妹妹 (little sister), Masako, visited from Tokyo. She was visiting with a friend and squeezed some time in for me. We had some traditional Taiwanese dishes at a restaurant near Dongmen station. She shared with me the delightful news that she is moving to Taipei in February and I shared with her the horrible news that I am moving back to Beijing for work in August. I was happy and disappointed at the same time. Here are some pictures:
Since the Church and Temple are near to Dongmen, we walked over and looked at it. It is quite beautiful in the afternoon and at dusk.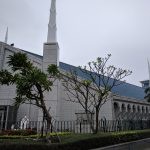 On December 30th, two friends from church, Jean-Francois and Vivian Morin, treated me to dinner. I enjoyed it immensely, although they had to put up with my poor social graces. I am trying to work on them, and did warn the Morins that I am practicing. I thank them for their tolerance with someone who is a bit of a bore.