During my trip home, two things rapidly became apparent to me – one personal and the other an observation of my people in the Florida parishes. My personal observation is that I lack stamina in doing any kind of physical work. I helped Jacob, my cousin, move from Myrtle Beach, S.C. to Hattiesburg, MS. He is a graphic design professor and just got a new job at Southern Miss. I was working with Jacob, his brother Mike and my brother Jason. All three of them outperformed me and I definitely felt all 380 lbs. of my weight that day. This became even more apparent in the cleanup after the Great Flood of 2016.
Speaking of the flood, it was an unusual period for me. Everywhere around me, the flood waters quickly rose, swamping people and forcing them out of their homes. Along my street, however, it was placid. I was staying at my brother John's house, behind my dad's. I was really proud of my father. My stepmother was a wreck of nerves, after having moving her parents, sister and brother-in-law from their flooded homes and having them staying with with Dad and Darlene. Dad was the voice of reason and calm, which still surprises me to this day. He only began to doubt himself, according to his words, when the water started to lap up against the back wall of the carport.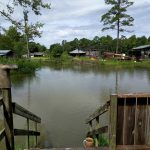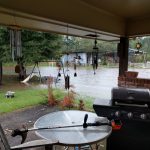 *First picture is from my brother's porch and the second is from my dad's carport.
I spent the time at my brother's house during the flood. I helped him move his equipment up higher and then watched as the flood water rose up coming from Dumpling Creek. His house was already elevated because it lies in a low lying area on the property. It got to about a foot from his house footings. Marianne (his wife) has noted that every time he tells the story, the water gets a little higher. Other than wading in slightly above the knee water going back and forth to dad's house and the near constant coverage of local news, that was my only experience with the flooding. The aftermath, as it was for most people, was a little more involved.
On the Monday after the storm, Marianne was able to get to Carter's Grocery in Walker and she bought cake mix because the bread was sold out. She made about 9-12 cakes and heard that they might be appreciated at North Park rec center off Lockhart and Eden Church Road. My cousin Randy Hooper was cooking and he asked us to stay and help out. John, Marianne, Tyler (their son), and myself worked about 5 hours. John and Randy cooked while Marianne and Tyler washed dishes. They also worked with me in distributing food to the refugees. It seems strange to think about people in your own hometown that way, but truly it was real refuge for most of them. After taking care of some business in Covington the next day, I returned to the shelter. Marianne seemed surprised about this. I worked for about 3.5-4 hours helping distribute food and materials, divided up food to be taken to other shelters and relay points, and generally aided the National Guardsmen in offloading donations. The generosity and sense of community from everyone was a joy to behold in such times. People were looking out for each other. We heard that the Red Cross would take over the shelter the next day, so I decided to go find work elsewhere. They bring their own volunteers and donations in, as everything up to then had been totally ad-hoc by people just pitching in and helping.
The next week and a half were spent helping other people. I helped my friend Nathan move a lot of damaged items to the road. He got over 5′ of water and his neighborhood in Denham was completely trashed. Jason came over one weekend and I went out to help him at his dad's old house in Hammond. It was already in bad shape. His depression on seeing it in such a state depressed me. I also helped over at my step-mother's parent's house on two occasions. I helped move some refrigerators to the street and then helped shovel (with a snow shovel) blown cellulose insulation out of the house. Doing that in 95 degree heat (more indoors) with no fan just about killed me. I regret not helping more, but to be honest I repeatedly hit the bottom of my reserves. I was completely unprepared physically. Perhaps then that is the main regret I have, that I could not have done more.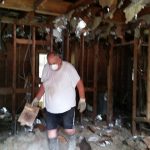 *This picture is of my old man
working harder than I ever will.
In memory of this event, I have included two videos taken off Facebook to demonstrate its scope in my hometown, Walker, and its neighbor, Denham Springs.