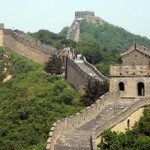 It seems in many ways that my life has come full circle. Or maybe just that it has not gone anywhere, if I were a complete pessimist. When I was 25, I set out for China as an English teacher. I was young, reasonably healthy (if very overweight), and happy. My second time in China was a time of depression and despair mitigated only by the presence of awesome friends. My roommate Bruno and our companions Beata, Rob, Jan, Masako (and so many others) did more of a service in my life than even they know. 2009-2012 was one of the darkest periods of my life and in the last two years of that time, I almost folded. But now I have returned triumphantly (mostly in my own head) to China at 34, still as an English teacher. I may have not been a huge success in the last decade, but most importantly I am happy. Still overweight, though. I have found that I am usually happier abroad for some reason. Probably something to do with not paying taxes.
For the last month and 1/2, I have been teaching at Beijing University of Aeronautics and Astronautics (北京航空航天大学), or simply Beihang (北航). This time around I am teaching graduate students majoring in a wide variety of majors. Mostly, though, they are engineering and science majors. All of them are smarter than me. It is a strange atmosphere as well, since I teach about 90% male. When I worked at Beijing Normal, I taught the reverse – almost all girls. In addition, they were English majors. It is still really interesting. As I told one student, I learn as much or more from the class than perhaps they do. I do have one class of English undergraduate majors, but they are a special class made up of students from other universities outside Beijing (called appropriately, Visiting Students). They are pretty cool kids and very enjoyable to teach.
I found that my Chinese has reached new levels of terrible. I was surprised by how much I remember since I haven't spoken it in three years. Still, this is countered by the great majority that flies over my head. I still have quite a bit of perseverance though. I will eventually become good at this language. I keep telling myself this and hope through repetition that it becomes true.
Beijing itself has changed so much since I was here in 2010, and even more so since 2004 on my first visit. The people seem worldlier, yet the air quality remains about the same. I went to play basketball yesterday and almost hacked up a lung. Ok, the fact that I have eschewed physical activity for almost forever had a great deal to do with it as well. I have been slowly losing weight – mostly because I walk almost everywhere and I eat better. I eat tons of vegetables here rather than meat.
The only real complaint that I have is that I forgot how slow the internet is on Chinese university campuses. The speed is slower than at my Dad's, which I had previously thought was the slowest "broadband internet" available to mankind. I have been proven wrong.