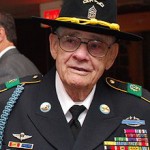 They say that earlier generations displayed the moral fiber and steely nerves that our present dissolute generation lacks in spades. Looking around at current groups of youth, I can hardly put up an adequate defense against such beliefs. Awash in technological addictions and moral subjectivity, it is a wonder the barbarians at the gate just don't knock on the door. We would surely let them in, if only for the short amusements our sensory overloaded attention spans could revel in.
That is not to say that this steely core has been entirely expunged. Even today, we have our Marcus Letrell, Michael Murphy, and so many others. Maybe it is even harder for these men and women, as we have sanitized the war and violence so far away from out of our lives. Dominated by the grind of dull work (if we are lucky) and frequent trips to the mall to expand our already burgeoning waistlines, our nation hardly glances up at headlines whispering such as 2 killed in Afghanistan today. It has so much competition with Poll Numbers, Debate Commentaries and the latest scandal by some over-tanned unwed mother in Jersey.
Perhaps this explains why those in the past hold such an interest for me. That I buy into the argument of this generation's moral decay. I myself can not measure up to the heroes of my day, so those of the past are god-like to me in their superiority. I understand that they were normal men, with all the foibles and failings that come with that. But, damn those were MEN.
The reason for this inward analysis of myself as representative of a fallen modern world is the passing of Command Sgt. Maj. Basil L. Plumley (Ret.) at the age of 92. A veteran of three of America's wars, he leaves behind a daughter, a grand-daughter and 2 great-grandchildren. My knowledge of this man is limited to Wikipedia, the movie We Were Soldiers and several obituaries on the web. I do not know the inner soul of this man – his strengths or weaknesses. I only know he was mighty, as are all others who guard the sheep.