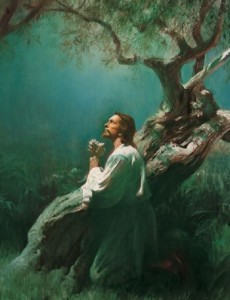 During the many turbulant lowpoints of my life, I have felt filled to the brim with my own unworthiness. Even worse, I have often compounded my own mistakes through intentional acts causing disappointment not only with my own expectations but also those that I know that God has for me. I felt as Alma did when he wrote, ""I was thus racked with torment, while I was harrowed up by the memory of my many sins." (Alma 36:17) In measuring my weaknesses against the perfection of the Divine, I feel the despair of knowing that I could never measure up to such a standard and enter without help into my prepared place in my Father's house.  I weep for the gulf that separates me from thee, O Lord, and feel the weight that I have added upon my soul.
It it is in this state that Easter has come, revitalizing me to do better. I remember the words of John 3:16, "For God so loved the world, that he gave his only begotten Son, that whosoever believeth in him should not perish, but have everlasting life." I remember the Last Supper and its modern use in my own faith where each week I may eat and drink in remembrence of Christ "and witness unto thee, O God, that [I am] willing to take upon [me] the name of thy Son, and always remember him, and keep his commandments which he has given [me], that [I] may always have his spirit to be with [me]. Amen" (Moroni 4:7). This allows me to each week renew my baptismal covenent and resolve to once again remember Christ in all things.
On Good Friday, I turned my thoughts to the suffering of Christ at Gethsamane, where Christ took upon him the sins of his people and bled from every pore. Christ here is the Passover Lamb, in whose sacrifice represents the mercy of God for his children Israel. I reflect on the weight that I have added to his burden and what I can strive to do in order to change myself. I then think of his journey to the cross after interrogation and torture. I keep in my head the image of the three men nailed to wood – two there for their own sins and one for mine and yours.
By Sunday, I was surrounded by the Spirit and ready for church. There, I further contemplated the empty tomb and the Risen Lord. There is the bridge that extends from me to the perfect One. By excepting his Son and expending the effect to reach always for him, God has created a method of escaping Perfect Judgement by the extention of Perfect Mercy. I truly know as Jacob writes, "I know if there should be no atonement made all mankind must be lost." (Jacob 7:12) I nor anyone else can truly appreciate the enormity of the Atonement. We can only look upon our lives and praise the Grace of our Father who prepared a way for us all.
He is Risen!